Keeping your carpet in its original pristine state can be a difficult task. Ready for some more tips from our expert carpet cleaning team on how to keep your carpet looking like new? Read on for our best tricks.
Sop Up Spills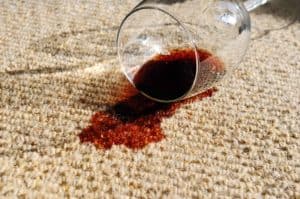 If you spill a glass of wine, don't consider it a lost cause and leave the stain set in. Did Fido have an accident? Don't leave the scene without cleaning up thoroughly. Try to tackle these spills and stains immediately. How you handle these stains will also affect the longevity of your carpet. Never rub a stain or spill. Place a cloth or paper towel on the spill to soak up the liquid. Then blot the stain using a safe cleaner. A great DIY stain remover is the combination of baking soda and vinegar. First blot the stain to remove liquid. Then pour some vinegar on the stain. Next apply some baking soda and let the baking soda soak up all the vinegar. Finally, vacuum up the baking soda solution.
Fix Frays
Even if you try to treat your carpet with care, fraying will eventually happen. This is particularly true in homes with dogs or cats. Their claws can catch on carpet fibers and cause a fray. If your carpet frays, carefully trim the frayed area right away. Do not pull on a fraying piece of carpet, you will damage the carpet further. Use sharp scissors and trim the fray back down to an even level with the rest of the carpeting.
Schedule Steam Cleaning Services
When you invest in new carpet, you are investing in the value of your home. However, if that carpet looks crushed and dirty, the value will be lost. The best way to ensure you retain the value of new carpeting is to schedule steam cleaning one to two times a year, depending on the traffic in your home. If you have pets or children in the home, you may need to schedule carpet cleaning more frequently. Steam cleaning not only extracts hard to reach grime and dander, it also restores your carpets fibers. Steam cleaning is an excellent way to combat the crushing of your carpet fibers due to foot traffic. The high powered extraction will remove deeply embedded dirt and stains, even reaching the padding of your carpet. This will prevent the padding from becoming damaged over time by abrasive debris.
If you are trying to keep your carpet looking new and smelling fresh, talk to our team today. We will be happy to schedule an appointment with you for carpet cleaning in Arvada, Lakewood, Evergreen, or surrounding areas. Our technicians are trained in the latest industry techniques and will provide you with professional, efficient service. Have questions about our carpet cleaning process? Feel free to browse our FAQ page and contact us with any further inquiries.