Pet Stains and Odor in Denver
If you have pets, there is a good chance that at some point in time, you are going to have issues with pet stains and odor removal. When you are looking for any pet carpet cleaning services in the Greater Denver Area, you've come to the right place. We professionally clean all sorts of pet stains and odor issues!
You need a carpet cleaning company with the right knowledge, equipment, and expertise to handle your pet stains and odor removal. MSS Cleaning is that company.
The Anatomy of a Carpet Pet Stain and Odor Problem
Here's the issue – except with maybe very small dogs, when your pet has an accident on the carpet, it bleeds through the carpet fibers. It also then bleeds through the backing, into the pad, and possibly even penetrates into the subfloor. Stain resistant pads, such as stainmaster, can sometimes help avoid pet urine penetrating all the way to the sub floor. Thus, this can sometimes make something like dog pee removal easier, but it's not a sure thing.
The typical DIY pet stain and odor fix is a fine place to start, however, often it's done wrong. Don't immediately grab a container of home carpet pet stain cleaner and go to town. Often, home carpet cleaning products can bleach or stain carpets or set the pet stain. Because of this, it's many time harder for a professional to remove it. Instead, we recommend a proper DIY pet stain and pet odor removal approach.
Professional Carpet Cleaning Pet Urine
Okay, so your pet had an accident (or perhaps multiple accidents) and left a pet stain on the carpet. Along with that stain, there is probably an unattractive odor. So, what do you do? You may or may not have tried to DIY the problem, hopefully using an approach like the one outlined earlier.
Now what? It's Time to Call the Pet Stain Experts at MSS Cleaning
Removing dog pee from carpet is a challenge. Removing cat pee is even tougher. We follow a 3 stage carpet cleaning approach to effectively remove pet urine from carpets. Here's what the best carpet cleaning companies for pet stains (of which we are one) can do, that a home owner can't:
Three Stage Pet Stain and Odor Control Process
Stage 1: Pet Stain and Odor Pre-Spray, Hot Water Extraction, Post Treatment
This process works well for probably half of the stains we encounter. Surface stains without a ton of liquid usually respond well. Examples being dog poop removal, pet vomit removal, small dog urine removal etc.
We first apply a pet specific pre-spray to the area. This is used as a high quality pet odor neutralizer. We allow this to work for 5-10 minutes
Next, We utilize our truck mounted carpet cleaning machine to perform a full hot water extraction (steam cleaning) of the area with a specific rinse. The purpose of this is to thoroughly rinse as much pet stain color and odor causing material from the carpet.
Lastly, an a follow up treatment to the carpet is done to ensure all of the stain is removed and any remaining odors are eliminated.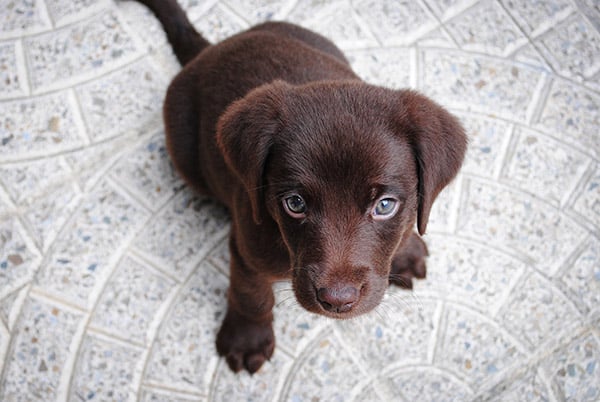 This is a specially modified Water Claw tool. This tool allows us to safely flood the area with specially treated water. Simultaneously, we can also extract all of the water and pet urine from the carpet and pad.
Stage 2: Flooding and Rinsing
When there are more advanced pet stains – perhaps a large dog peed on the carpet, or a pet has been using the same area frequently to relieve itself, we need to take things to the next level.
We utilize a special tool called a Water Claw that has been modified to both flood the area with pet odor neutralizer. Multiple cycles of flooding and rinsing are utilized to remove as much material as possible from the carpet. Through the numerous rinse cycles, we also clean the underlying carpet pad.
We follow up using the process in stage 1.
Stage 3: Carpet Pad Replacement and Kilz Treatment
For the most significant pet stain carpet cleaning, replacing the carpet pad and possibly treating the subfloor is necessary.
Pull back the carpet and clean both sides of the carpet – both the front side and the backing.
Cut out the area of the carpet pad that is saturated in urine and replacing it with a new piece of pad.
All areas are treated with odor neutralizers and special cleaning solutions.
If necessary, Kilz can be applied to the subfloor material to seal in any pet odors left from dog urine or cat urine. Typically this is not needed for dog pee removal, but for cat pee removal, where the scent is more pungent, it often can be.
Allow the carpet to dry and then reinstall the carpet. Stretch and tuck the carpet to return to a professionally installed look.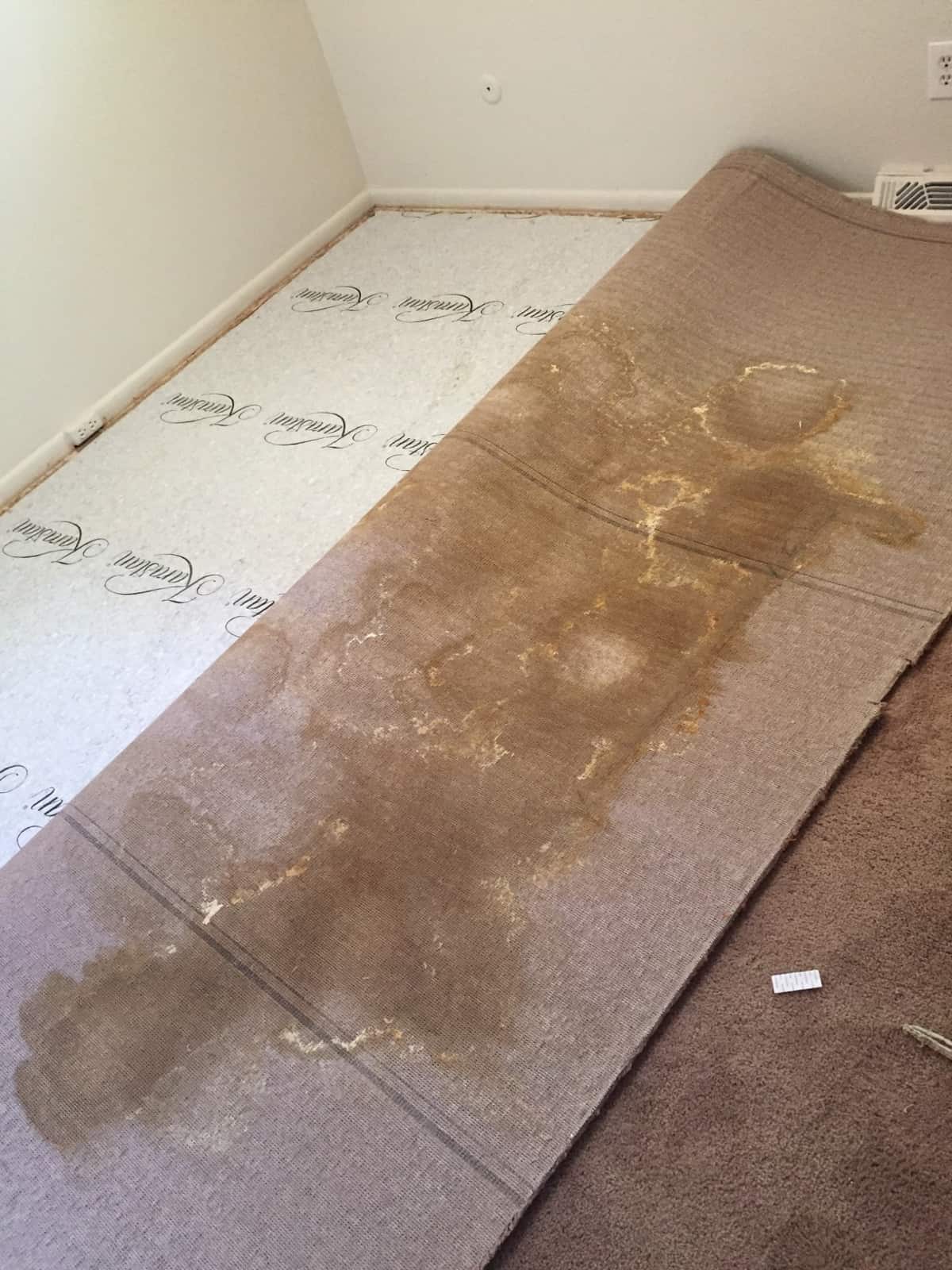 Recommended DIY Carpet Cleaning Pet Stain and Odor Removal Process:
Step 1 – Absorb the Pet Stains and Odor
Assuming you found the pet stains and odor issues quickly and also the stain hasn't yet dried, the first thing you want to do is absorb as much of the pet urine as possible. Use a large quantity of paper towel and place it over the pet urine stain. Apply heavy pressure to remove as much as possible. Repeat this process with fresh paper towels until you have removed as much pet urine as you can.
Step 2 – Rinse and Repeat
Next, apply a few ounces of water to the urine stain and absorb all of that as well. Do this a few times. You want to do this because your goal here is to rinse as much of the pet urine out of the carpet and the carpet pad as you can.
Step 3 – Use a Home Spot Cleaner (if you have one)
If you've got a home spot cleaner, now it a good time to use it. Using a product like Natures Miracle, spray the solution onto the carpet and continue the rinsing process. Rinse the carpet thoroughly, realizing that dog urine removal (or especially cat urine removal) is not an easy thing. Therefore, it requires many, many rinses.
Often times, these machines do a fine job for a surface stain, but it's not going to fully penetrate to the pad and provide a full deep pet carpet cleaning of the spot. Therefore, it's not going to be perfect. Sometimes, the products you use in a home carpet spotter like this mask the odor with perfumes, but the pet urine is still in the carpet or padding. Because of this, the stain may reappear. Also, as soon as you have a warm day, you're going to start smelling the urine or other odors again.
Step 4 – Still Have Pet Stains or Pet Odor Issues? Give us a Call. We're Experts at:
Pet odor removal
Dog urine removal and cat urine removal
Pet stain removal (including urine, feces, vomit and more)