Picking up where we left off last time, read on to learn more about how you can effectively remove pet odors from your carpet.
Keep Your Furry Pals Groomed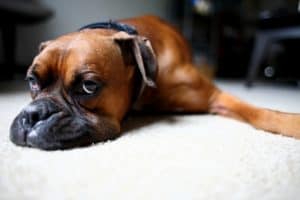 Another way to prevent odor build up is to ensure your furry pals are clean. Groom them frequently. Dogs who are not bathed will be more prone to shedding dander along with excessive amounts of fur. If your dog spends time outside, make sure you clean all four paws before letting your pal run around the house. During muddy seasons, keep a towel by the door to ensure you don't wind up with dirty prints on your carpets.
Change Your Air Filters
When was the last time you changed your HVAC filter? Although this may seem unrelated to your carpet, it can contribute to that musty dog or cat smell around the home. Your home's air filter should be changed a few times a year. If you have noticed your allergies getting worse, it could be due to the build up of dander and fur in your HVAC system. Changing your filter is simple and cheap, but will improve the quality of your indoor air greatly.
Schedule Carpet Cleaning
Keeping up with ongoing cleaning, including ensuring your pets are well groomed, will help a lot towards keeping your home fresh. However, if you own pets, you need to schedule regular, professional carpet cleaning on a frequent basis. Over time, even well behaved pets who never have accidents and allow you to groom them frequently will contribute to the buildup of grime, dirt, dust, and dander in your carpet. Regular vacuuming and cleaning cannot reach the deepest parts of your carpet fibers. Steam cleaning will target the deepest parts of your carpeting, and the high powered extraction methods we use will pull out odor-inducing pet hair, dander, and urine. This will leave your home smelling fresh and looking clean. It will also improve the longevity of your carpet, which means lowered costs for you in the long run.
Reach Out Today For Help With Pet Odor Removal
If you have tried all the methods listed above, all the methods from Part 1 of this blog series, and your carpet still has a lingering odor, contact our technicians. We can assist you with high powered steam cleaning for your carpet. We provide carpet cleaning services in Lakewood, Evergreen, Arvada, and surrounding locations. Fill out the form below for more information.