Wool carpets are a great high end carpet choice. With natural stain resistance, and durability, there is no wonder this fiber type is an excellent choice. Along with its natural durability however, comes the ability to hold a substantial amount of dirt. That's where we come in. MSS Cleaning offers excellent wool carpet cleaning services.
Cleaning Wool Carpets in Denver – Proper Process
Dry Soil Removal and Spotting
Dry soil removal should be the first step for any residential carpet cleaning, but especially wool. Because of the amount of dirt these wool carpets can hold (often pounds of soil can be removed from a relatively small areas), initially removing dry soil with a properly calibrated, high power vacuum should be the first step when carpet cleaning wool carpets.
Wool Carpet Stain Removal and Spotting
After dry soil removal, stains should be treated. Wool safe spotters should be used on spots and stains to avoid damaging, dyeing or bleaching the wool carpet. After these steps, moving on to extraction is typically advised.
pH Considerations for Wool Carpet
Wool carpet cleaning isn't quite like typical synthetic carpets cleaning. Your nylon on polyester carpets of the world can be treated with a wider range of solutions and detergents than wool can. They also have greater resistance to heat than does wool. While you may be able to apply a high pH solution to a typical carpet, if you apply a detergent much beyond a 9 pH solution to a wool carpet, you risk damaging the carpet. Carpet cleaning solutions for homes can easily exceed this. Even worse, many companies use commercial carpet cleaning solutions and detergents in residential settings with pH well into the 13 range. Similarly anything "Oxy" is probably a bad choice due to damage it can cause to wool.
Heat Considerations for Wool Carpet
Similarly, you need to be careful to avoid heat – warm water can typically be used with traditional truck mounted machines. High water temperatures, however, often touted by companies that don't know better, can actually do your wool carpets harm. You've no doubt seen companies bragging about their 250 degree steam cleaning with steam blasting out from their wands? While that's actually ineffective for cleaning any carpeting (hot water, not boiling water is what is actually better), for wool carpet cleaning, the right choice is well regulated, temperature controlled water.
GET A FREE ESTIMATE NOW!
[gravityform id="1″ title="false" description="false"]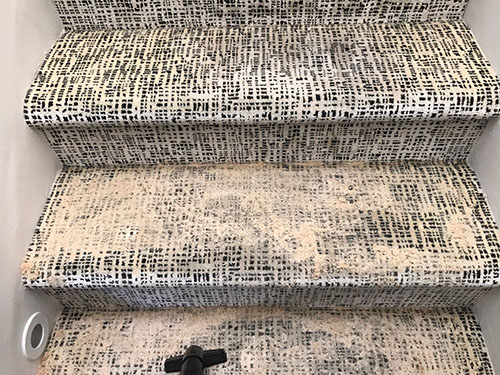 Other Wool Carpet Cleaning Methods
In some instances, hot water extraction (steam cleaning) isn't actually advisable at all. In these cases, there are a number of dry cleaning products, such as a product called Host, that can be used for more delicate wool carpet cleaning. Here, a dry cleaning product is brushed into the carpet and then vacuumed cleaned.
What About Wool Rugs?
If you have wool rugs or other fine rugs that need to be cleaned, we can also help with that. Proper rug care should be performed offsite to safely and effectively clean these delicate pieces. Wool carpets have are reasonably durable, whereas Oriental, Persian, or other fine rugs have many different colors that can bleed, tassles to clean and repair, etc. We take these rugs offsite and clean them at a local plant where they can go through an extensive cleaning; dusting, full water immersion, controlled drying, etc.
Choosing the Best Wool Carpet Cleaning Company
When you have expensive, high end wool carpeting, the last thing you want is for it to be damaged. You want a company with the right knowledge and expertise to safely clean your expensive wool carpet investment. As an IICRC certified firm with IICRC Certified residential expert technicians, you know your wool carpets will be in good hands. Whether you need to clean Karastan wool carpets, Glen Eden, Stanton or a different wool carpet manufacturer, MSS has got you covered.